I've been busy studying for my medical terminology class.  Since we pay for it on a monthly basis it behooves (don't you just love that word) me to finish it quickly.  Right now I am busy memorizing prefixes, suffixes, and word roots.  Now I know you all are jealous but just try to contain it. 
  As I have been doing this though I have been convicted on my lack of scripture memory.  What could be more important than getting God's Word in my heart.  I grew up going to AWANA and have memorized tons of Scripture in all my years in public school and at Bible colleges, but lately it is a habit that has been lacking.
Well, as is usually the case when God is leading you towards something, I've been also reading a lot about others who are memorizing Scripture and many who are doing the Hiding His Word in my Heart challenge from Do Not Depart. Now apparently I am a little late to the party but better late than never.  There doesn't seem to be any time frame other than what you put on yourself. So as I was searching around more it appears they have done a Hiding Philippians in My Heart Challenge that went with the Philippians Bible Study they did over the summer.  Once again I am late to the party but I am planning on memorizing the book of Philippians and finishing it by my birthday at the latest. I also am going to do the Philippians study once I get through the Abiding Fruit study. 
Anyway, I am excited about all of this.  I am so thankful to God for allowing me to find these blogs with great Christian woman studying the Word of God and encouraging me in my walk.  God is good!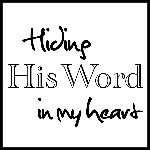 I haven't done my Bible Study for today as I woke up late but this will have to do for my Woman in the Word Wednesday post.