I'm not sure if I have mentioned it much on this blog but I am a knitter.  No not just a knitter but a Knitter with a capital K.  I love to knit.  I have yarn everywhere even in vases as decorations.  I'm actually working on learning to design and am going to be starting a knitting/yarn business, more about that soon.
Most people I know who have learned to knit have had a mentor who taught them every step of the way.  But that does not need to be the case.  I taught myself to knit.  Well, let me modify that, I did have someone teach me how to cast on and do the knit stitch.  But I quickly got addicted and needed to learn how to read a pattern and purl and do a myriad of other things all of which I taught myself to do.  If you have been wanting to learn to knit I'm here to tell you you can teach yourself too.  I do know it is easier to learn if you have someone right there but not all of us have that or if you are like me you learn better just trying to figure it out on your own.
So I know there are tons of books out there that will teach you to knit, but I am a very, very, very visual person.  There is no way I could have learned just from written instructions.  In comes the Internet!  I mean when you are stuck at 2am in the morning it's nice to know that youtube is there.  LOL  Actually the site I used to teach myself to knit was Knitting Help.  I'm telling you this site is a jewel.  I still go there when I need to learn a new technique.  All the videos you need to start knitting are free on her site and available whenever you need them.  And may I recommend knitting continetal (holding your yarn in your left hand) instead of the traditional method.  It is so much easier and faster.  That is how I learned, which was especially helpful since I had crocheted before and you hold the yarn in much the same way.  On Knitting Help she will have the videos for both methods.
I can't tell you the number of people who have told me they can't knit and when I sit down and teach them continental knitting they are doing it in no time.  Knitting is such a relaxing hobby.  I just love it!  It is calming and it makes you a lot more patient.  Just imagine the next time you are in a waiting room and instead of thinking of all the things you could be getting done at home, you are happy to have the time to sit and get more work done on your knitting project. 
  I wish I could sit down with each one of you and teach you how to knit as it has been such a blessing in my life.  Not only is it relaxing but it brings such a fulfillment.  God is creative and He created us in His image.  We were designed to create and make things.  I feel so much peace when I can listen to Bible teachings and create something beautiful with my hands.  Give it a try I know you'll like it!!
This post is part of the Blog Carnival for The Schoolhouse Review Crew.  The topic this time is on How to (do whatever).  So there will be a great variety.  The blog post will go live on Tuesday so make sure to check out all the awesome How to posts out there from my buddies.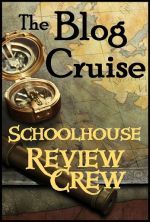 Oh and here are some of my projects I have finished recently just to whet your appetite. 
This is the Tulip Cardigan.  I knit it for my daughter when she was a baby.  The yarn is super soft and squishy and she looked so cute in it!  We bought the yarn on a sock knitting cruise that my mom and I took while I was pregnant with her.  It was purchases in Victoria, BC…such a beautiful place.
This is the Chinook Lace Shawl that I bought from Knit Picks.  I highly recommend them.  They sell awesome high quality yarn at cheap prices.  And there interchangeable needles are affordable and amazing!!  Oh and they have videos as well.  Check out their youtube channel.  I made this shawl for my mom and I have a kit to make one for my mother in law and myself in different colors.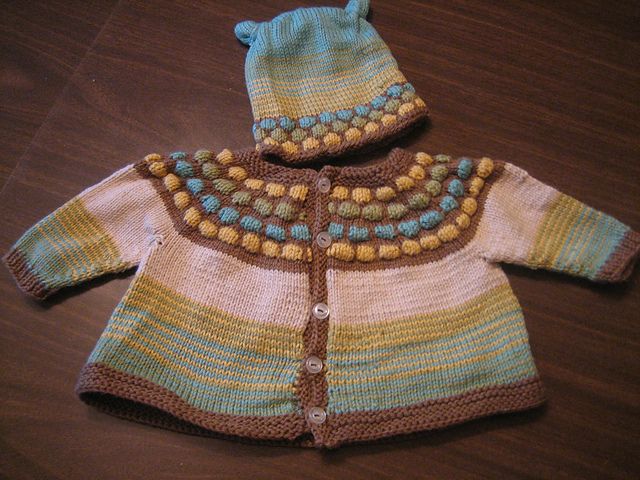 This is a special baby cardigan and hat set (it also has booties they just aren't in the picture) that I knit for my best friends last baby.  She is pregnant again so it's time to start thinking of something for the new baby now.  Baby knitting is so much fun!  The pattern is from Knit Picks and came in a kit.  It is the Little Baby Bobbles Set I believe.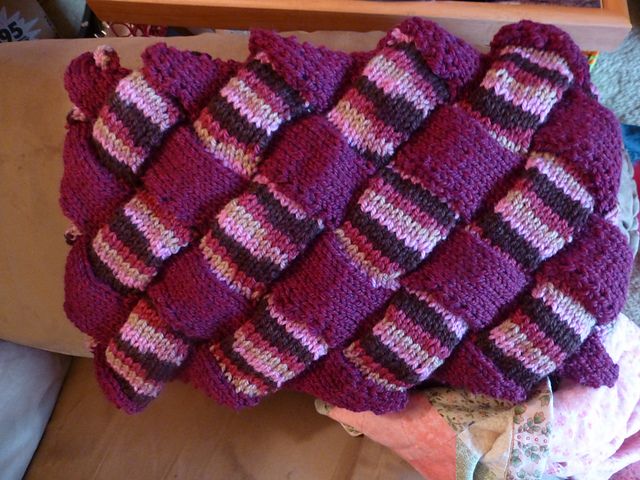 This is a enterlac infinity type scarf.  Enterlac is an awesome technique where you knit little squares that attach to each other.  I loved making this and it ended up with a good friend because it made my neck itch.  It was part of the Enterlac Knitting class I am taking through Craftsy, another one of my favorite sites.  They have online classes for all sorts of crafts, even photography and cake making.  It has a great platform and you have access to your class forever.
And these are just a pair of vanilla knitting socks.  I didn't really use a pattern for these just followed a basic recipe.  They are made out of self striping yarn from Knit Picks.  Now I know some of you who have never worn hand knit socks might think they are the craziest things to knit, BUT once you put your feet in custom hand knit socks that hug your feet with warmness and softness that fits your feet perfectly you will be hooked!  I always have a pair or two of socks on the needles.
So I hope you enjoyed my little rave about knitting and how to teach yourself.  And don't forget to check out the other how to posts  from my friends!