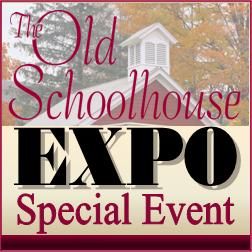 The Schoolhouse Expo is coming up next week and I am so excited!!! Last week I ran a giveaway and my friend Candance, from
Candance Mitchell Photography
, won. I'm so excited for her to enjoy this with me. Both of us agree that the two most exciting speakers are
Ray Comfort
and
Dean Butler
. I think most agree on that one.
Let's start with Ray Comfort from LivingWaters.com. I am a huge fan of Ray's. I learned about him through Todd Friel of Wretched Radio. He is a street evangelist and is style is awesome. He doesn't do any sugar coating but leads people to realize they are sinners based on the Ten Commandments and once they realize that then shows them what the Lord has done. He doesn't lead them in a sinners prayer or anything but just asks them to think about what he has said. You can watch a lot of his encounters online and it really helps you know how to witness. I'm excited about his new book about how to help guide your children to the Lord and I'm sure his talk will be amazing!!
And let's not forget Dean Butler of Little House on the Prairie. He played Almanzo.
He know has a documentary company and has done one on Laura Ingalls Wilder and this is what he will be speaking on. We just finished up watching his documentary on her for a review and truly enjoyed it. I'm sure his talk will leave us wanting to do more with Laura's amazing works of fiction.
I hope this has wet your appetite a little for this wonderful expo. You can attend in your own house in your pjs and with your ticket you will also get copies of the audio to listen to for years to come and to help you catch what you may have missed while changing diapers or making food.
The Expo is all next week the 19th-23rd from 10am to 5pm (Pacific). It is only $24….way cheaper than a conference you would have to attend. So head to Schoolhouse Expo and get your tickets today and join me for a time of refreshment and new ideas just before we start this new school year.
This is a promotional post, with admission to the Expo as my reimbursement. However I would still be sharing this amazing conference with you.