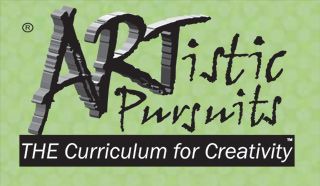 "
ARTistic Puruits
THE Curriculum for Creativity" just their tag line makes me fall in love.  🙂  I'm such a sucker for anything that will help my kids be more creative, especially since my husband and I are both creative types in our own fields (his computer programming, mine fiber arts). I have coveted this curriculum for years but each year we end up getting the more essential stuff and this gets pushed out of the budget.  So when I saw it come available for review I was so, so, so excited.  And when I got chosen I squealed. 🙂  We were selected to review
Early Elementary K-3 Book One: An Introduction to the Visual Arts
but I was excited to see that they also have a book for preschool as well (
The Way They SEE It: A Book for Every Parent About the Art Children Make
) and am really looking forward to reading my fellow crew members reviews on this product.
ARTistic Puruits creates art curriculum specifically with the homeschooled family/child in mind.  The projects and teaching style is catered to be simple for a homeschool mom to do and I was so thankful for that since I may be creative but not artistic when it comes to visual arts such as drawing, painting, modeling, ect. Their curriculum is designed to teach the child the artistic process including how to observe.  It does not just teach how to draw, paint, ect. but it teaches the very process artists go through.  It is truly amazing.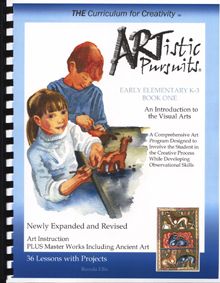 In the book we received,
Early Elementary K-3 Book One: An Introduction to the Visual Arts
, the lessons were laid out in three parts.  The first was an introduction to the concept being taught in that lesson with a short exercise on how to do it or how they probably already do it.  These were simple things like observing what you see out the window.  Then the next page of the lesson (each lesson was three pages with big words so it wasn't a lot) had a painting from history to look at and observe.  I loved this part as it teaches them about art appreciation and how to analyze art. On the third page is the project.  It clearly outlines how to do it with illustrated steps as well as a handy box that tells you exactly what supplies you need.  We chose to buy our supplies from
ARTistic Pursuits in their kits
.  You will need to buy art supplies for this from somewhere.  I priced it all out on amazon and it was truly cheaper through
ARTistic Puruits
plus we got a cool tote bag to keep it all in.  You could also buy a bit at a time but I prefer to know we have everything we need when we need it.  We actually saved money doing it this way in the long run. Also on the third page is a picture of another child's art work which I thought was great.
This product comes as a spiral bound soft cover book and is very thick.  It has great color pages that are very vivid which is why I am guessing they are more spendy.  However, if you are homeschooling more than one you can reuse the book over and over again.  The price of the book is $47.95.  This is what was holding me back in prior years to purchasing it but now that I have seen the product and how thick it is and how beautiful the pictures and such are I will be buying other versions for sure.  The price is well worth it in my opinion.
The curriculum is easy to use.  On a typical day we would read each of the pages and then I would go over the project specifics with him.  He would then gather the supplies and set to work.  Altogether it would take maybe 15 to 20 minutes of my time and maybe another 15 to 20 to do the project depending on how quickly your child finishes the project. Obviously different children will take different amounts of time and different projects will require different amounts.
We truly loved this program and will continue to use it for many years to come.  Not many of the things we review stay a part of our homeschool after the review period but this is one that will.
Make sure to watch my youtube review of the product to see the pages from the first lessons and hear me ramble on about it. 🙂
I received a free copy of this product through the Schoolhouse Review Crew in exchange for my honest review. I was not required to write a positive review nor was I compensated in any other way. All opinions I have expressed are my own or those of my family. I am disclosing this in accordance with the FTC Regulations.