Demme Learning's Math-U-See
 has been our favorite math product for years now. I got a sample DVD of it when my oldest was not even yet in preschool back 9 years ago. My husband and I watched it and Mr. Demme taught us a trick about math that made us both go "oh that makes so much more sense now." And we were sold. This year as part of the crew we were honored to be able to review the new
Digital Packs
 I chose to review the Alpha pack since we haven't started math formally with my 1st grader yet and we needed to desperately. She was super excited to get to do math like big brother does.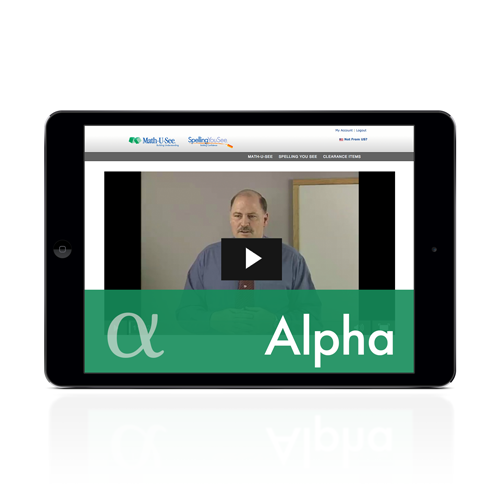 The Digital Packs include access to all the material you would normally get on DVD online, the solutions and teachers manual online, the skip count MP3's and songbook PDF's, and the digital manipulatives. You get access to the digital pack for a year at a time. I was excited to get to try something new from from Math-U-See since we are in love with them but this wasn't the best fit for my 1st grader but let me explain why. The online videos work fine, however, I want to get the actual DVDs so I have them for use with my younger kids. I can see how they would be handy though if you didn't want to store the DVDs or if you needed to travel or do school at the library or wherever you could just take a laptop or a tablet and they could watch the video on that. The other online tools would be handy for that as well, however, for us I would like to get the actual teacher's manual and such to have on hand.
The most exciting part of the digital pack is the digital manipulatives. They make it so that if you can't afford the actual manipulatives you can still benefit from this awesome math program. It will also make it so that you can use the manipulatives on the road if you need to. My 1st grader wasn't too excited about these because we have the actual physical manipulatives and so she found those a lot more fun. However, I have a feeling my 6th grader is really going to enjoy them when we get to fractions. I think older kids would really enjoy the ease of not having to drag out the blocks and they seem to love apps and using gadgets so I have a feeling that it will be a perfect fit for him.
This may not have been the best fit for my newest math student but I can see how it would work well for many families. I also think that it will work well for my oldest. I can see us taking a tablet with us to the library while the younger ones are doing story time or whatever so that he can work on some schoolwork. I think this is a fabulous new addition to the Demme Learning family of products.