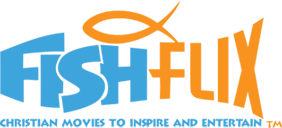 We enjoy watching movies around here but are always trying to find good ones because we are very picky when it comes to what we let come into our home. We actually don't have a real TV and just have a little DVD player that barely works. We are looking at getting a TV with DVD player and
FishFlix.com
as just given me another reason to want one. We received a copy of
The Ultimate Gift
 to watch as part of our review. There were so many great titles to choose from that it was super hard to pick one, but at the same time you really couldn't go wrong.
Let's start off by talking about the website itself. FishFlix.com offers loads of great family films as well as Biblical films such as dramatized readings of the Bible. They also have loads of Children's videos and educational dvd's ranging from biographies to apologetics. I love how organized the site is. As you can see from the screen shot they have sections at the top and then more detailed categories down the side. At the bottom there are more ways to search super generally with some buttons. There are just so many ways to explore and find new entertainment and education. I'm in love with this site.
Like I said above we received
The Ultimate Gift
 for our viewing pleasure. I love how
FishFlix.com
has Christian movies for us to enjoy as a family. We have been wanting to do more family movie nights and this has given us a great resource to find Christian movies to watch together. I can see our DVD library expanding as I type this. 🙂
The Ultimate Gift
is about a wealthy trust fund baby named Jason who has never had to work in his life. He has everything he could ever want and is used to getting what he wants. Nevertheless he feels animosity towards his grandfather, even though that is where the wealth ultimately comes from, and when his grandfather dies and seems to leave him nothing he is ticked. However, as the last one left at the reading of the will he finds out that his grandfather had something special in store for him. A series of "gifts" in the form of tasks results in the ultimate gift at the end. His grandfather's elderly lawyer and business partner, Mr. Hamilton, will be monitoring his progress and and making sure he follows the rules and satisfies each step. Jason refuses at first but then decides that perhaps he should find out what this is all about because who knows when his trust fund money will run out and heaven forbid he may need to get a job some day. He quickly learns that these "gifts" are not what he expects and that his grandfather is trying to teach him a much more valuable lesson. This movie is filled with laughs and loads of lessons and moments of tears. My 11 year old loved it as did I. My 7 year old watched bits of it but the two youngest weren't quite ready for it yet. I do, however, highly recommend this movie if you haven't seen it yet. It was fabulous.
As part of the review FishFlix.com is offering a giveaway for the five movies pictures above! All you need to do is simply sign up at for their newsletter at https://www.fishflix.com/schoolhouse. Make sure to go check out the other crew reviews through the graphic below since a lot of them are for other movies you might want to try out too.