This year with the crew is the first time we have used
Memoria Press
. I've poured over their catalog before and been very interested but just didn't know what to try. So getting to try out two of their products this year has been a real blessing. This time around we got to try out 
D'Aulaires' Greek Myths
. I thought this would be a great fit for Ben our 6th grader because he is in love with the Percy Jackson novels and really anything that Rick Riordan writes. I wanted him to get a good education in the actual Greek Myths and also think critically about the differences between them and Christianity.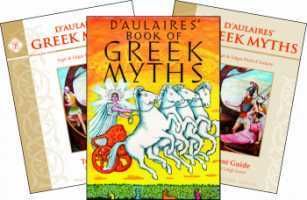 The set we got came with a student study guide, teacher's guide, the book, and flashcards. This specific course is intended for grades 3-6 but could easily be adapted for older grades. We will continue working on this into the summer and technically that is when my son flips over into 7th grade. There is lots to memorize if you want them to and lots more you could easily add to make it more challenging for older grades.
Let's talk about what is in student guide and what a lesson looks like. A typical lesson includes pages to read in the D'Aulares' Book of Greek Myths, Facts to Know, Vocabulary, Comprehension Questions, and Activities. The facts to know is usually different gods names and locations on maps defined for them. These are the things that it is good to have them memorize and that are on the flashcards. You could easily adapt this to make it easier or harder depending on the level of your child, making them memorize all of them or just a few. The next section is the vocabulary. We went through these words together and would see if he could figure them out from the little bit of context that was given in the study guide. If not we would figure out what they meant together. The main point of this section is to make sure they know what the words mean so they don't gloss over them in the reading. You could make the student look them up in a dictionary but I just helped him with what they meant. Then after that I would have him read the part out of the Greek Myths book and work on the comprehension questions on his own.
The last part of each lesson is the activities. The activities section is where loads of different types of things would be incorporated. There would be identify activities to help utilize the gorgeous pictures in the Greek Myths book and help the student engage more with them. Also map activities where you have them find and mark things on the maps in the back of the study guide. There are writing prompts, discussion questions, enrichment activities, and just loads of great options that you can really take and do with what you want. I really like this section because if my son is more interested in something we can take it and run with it and make it our own or if he's not we can just quickly discuss what is here and move on. To me it is a great area to help get your creative juices flowing on how to teach the subject a bit more creatively.
We really enjoyed using this product and I will definitely be looking at more products from Memoria Press in the future. If you are looking for a great way to teach your children about Greek Mythology from a Christian perspective this is the way to do it. This gets 5 stars from us.