EdTechLens
is a new company that makes media rich science programs, so far they have a life sciences class on the rainforest with two more classes planned. The class we got to review is called
Rainforest Journey
. We got a class for Kindergarten, First Grade, and Sixth Grade but we focused most on the First Grade class.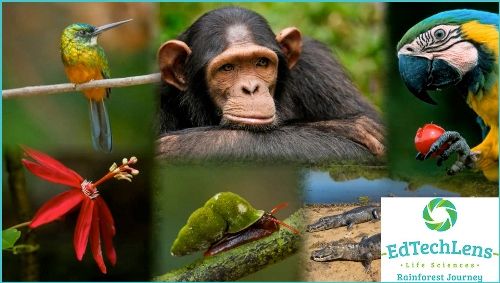 The first thing I noticed about this product even before we were selected to review it was how gorgeous the website was. I mean it is absolutely beautiful just like the picture above. The class takes the children on an adventure through the rainforest via pictures, audio, text, and video clips. When you sign up you are given a sign in for each child as well as a sign in for you so you can check on the progress of your children. You can set it to let them freely explore the class or so that they have to go through the class linearly. I wasn't a huge fan of the fact that we had to remember a new user name and password for each child, but you can set the user name to something easier to remember than what they give you so that does make it a bit nicer and once you have your browser set up to remember them than it works nicely.
The First Grade Class progresses through each of the layers of the rainforest and then goes into the different layers and animals found there. I was excited to try this product but I felt like it wasn't that engaging for my first grader. She did find it fun to look at the pictures and she did enjoy the audio clips but I'm not sure she learned much. A lot of the video clips had words over them and she can't read much yet so I had to read them to her. We did enjoy seeing the gorgeous pictures, however. I guess I was just expecting something that would require quite a bit less work from me. To really make this work well requires a lot of work from you. There are lots of papers that need printed out and research that needs done so you could teach and fill in the gaps between the gorgeous pictures and video clips.
Also, despite the fact that the website was gorgeous, it was very hard to navigate and understand. I think a lot of that could be due to the fact that it is new and they don't have all the kinks worked out yet. I couldn't understand what I needed to print and what we needed to do for each lesson. I just think they need some time to more fully form the meat of the lessons and the website. I think they have the beginnings of a great new resource and once they have more explanation and direction on the site for the teachers and homeschooling moms it will be a fabulous product for us homeschool moms to use for science in our homeschools.