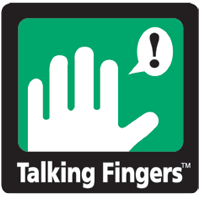 I find it funny and ironic that just after writing up a review in which I talked about how important it is to have good penmanship I am now doing a review in which I am going to talk about important it is in this day in age to also be able to type well. 🙂 But it is the truth. I believe strongly that it is just as important that our children learn from a young age how to type and how to do it well. Our children are living in a digital age and need to learn how to use computers and how to use them well. I could get on a big soap box here but I'll refrain for now. LOL Anyway, I'd heard great things in passing about
Read, Write & Type
 from
Talking Fingers Inc.
 so I was super excited to give it a try.
Read, Write & Type is a online software program that teaches phonics, spelling, typing, and word processing. It's amazing. It is made for ages 6 to 9. We used it with my 7 year old, Hadassah. She loved it immediately because it was on the computer and to her that is getting to be a like a big guy in her words. I can already tell that the two younger ones who are 5 and 4 now will be wanting to use this when they are old enough because every time sissy was using it they pulled up chairs and sat and watched her.
The program started by having these two hands (whose names are escaping me but they are super cute) come out and land on the keyboard on the screen. They explain the whole keyboard and the different letters but then the little bad guy alien comes and steals all their stories. The object is then to get all the stories back by learning to type and read. It's a lot of fun. They play games to learn and they can always click on the hands or other areas to get help if they get stuck. As they continue on in the program extra areas open up such as the email tower, my daughters favorite. She loved sending emails out and getting them back from different countries. They also have a story tree and other fun areas.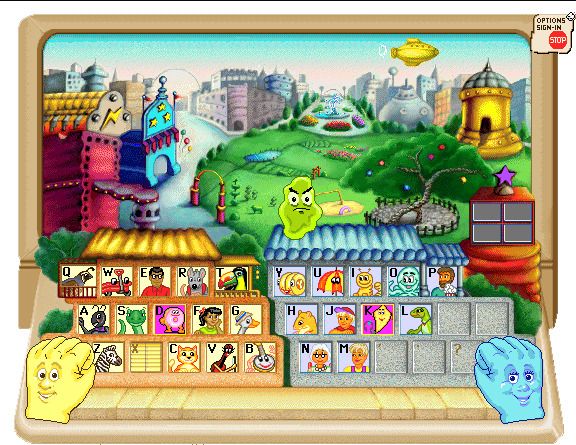 I was worried at first that the kids might think the graphics were a bit cheesy or that the whole premise of a silly little blobby bugger looking alien might not intrigue them but it did and I even found it drawing me in. It really is a fun little program and teaches kids how to read and spell and type all at the same time. It actually makes a lot of sense to combine them like this. I'm not sure if I would use this as a replacement for other phonics programs but I do think it is a great addition to your phonics program. It's only $35 for one user for a year so it's totally worth it.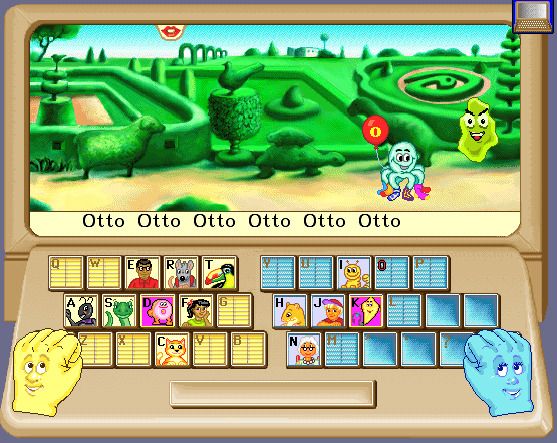 I did find that after awhile I looked over and she was not following the correct steps for putting her fingers where they were supposed to be and really struggling so I just went into the really handy teacher area and started her over. You can do that or you can start it over at a certain lesson. It can be a bit tricky to navigate that area but there is a user manual at the top of the administrative area to help you guide it through it all that I highly recommend. It does seem to be optimized more for schools so for a homeschool mom it can be a bit more confusing, but all in all it's not too bad.
All that to say, we really enjoyed this product and I don't think my daughter will allow us to not continue using it. She loves it so much. I'm happy that she is learning to type while also reinforcing her reading skills. My husband who is a software developer is also very excited that she is learning to type at a young age so this program as many seals of approval.